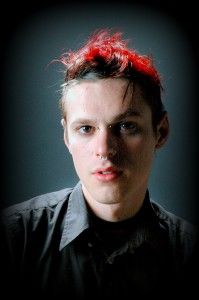 David Bruce Instone passed away at his home in Seattle on Thursday, April 10th at the age of 30.
David is Predeceased by his brothers Kevin Duane Instone, and Steven Thomas Instone.
David is lovingly remember by his Mother Cindy Alston and his Father Robert Duane Instone, Step mother Diana Instone, Brother William R. Instone, niece Karma Instone, and lifelong partner Alethea Zuniga Instone, and his cat Smokey who David loved like his own child, as well as aunts, uncles and many cousins.
David's passions was taxidermy, music, singing Karaoke and hanging with his friends and loved going to the casino to play penny slots.  He loved to watch his Judge Judy , Roseanne, and the Golden Girls.
His Memorial will be held at Seattle Unity Church 200 8th Ave N Seattle, WA 98109 Thursday, April 17th at 1pm.
David will be missed and was loved by so many.  A true soul with no loss for words when he had something to say.. May God wrap you in his arms and keep you safe as you transcend into your new life.
---
Comments
Elizabeth K Marquart
Posted April 14, 2014 at 1:41 pm
David , I will miss you and I love you. I will always remember your laugh and your beautiful smile. You were always so sweet to me and I just loved that I was your neighbor in Marble Falls. I love your family. You all were the best neighbors and friends. May you rest in peace. Tell Tommy and Kevin hi for me
Art Euro
Posted April 14, 2014 at 3:01 pm
Dave,
Well you were one hellavu guy to party with bro. Imma miss that. Imma miss Fat Cat too, that little cat nip bogart…
Thanks for your help during my transition tho, fer reals! You helped a lot! Peace Profound my friend. See you later brother. ~AE~
dustin curtis
Posted April 14, 2014 at 4:02 pm
Davy,
I miss you. Wish we could have chatted more the last time I saw you. I'llneverforget you. Muah and Meow
Keziah Jude
Posted April 14, 2014 at 6:38 pm
"We must embrace pain and burn it as fuel for our journey."-KM
David, ours was unspoken!
Gratitude for your part in our journey & ineffable connection.
TA! for loving & embrace everything about me as I did you. This duo will be unrepeatable.
I'm shattered by your absence, but relieved you are now at peace.
Farewell, Snowflake.
Vanessa Feazell
Posted April 14, 2014 at 11:58 pm
I remember in grade school where we first met. You asked me for an eye pencil. Confused by this you had me hooked to wanting to know more about you. We became like 2 peas in a pod until you moved away. I was sad but had faith that i would see you again. I was right, at the Howdy Roo we met again. Caught up to each others lives and poof gone again. I will miss you David. Rest IN Peace.
Katy
Posted April 15, 2014 at 12:38 am
David, I smiled the moment I saw you, I knew you were someone I needed in my life. You shared yourself with everyone in such an open and honest way. You had my heart the moment I first heart your contagious laugh. And saw that devilish grin. My life is eternally better for having you in it. I miss you and I love you.
Sean Banks
Posted April 17, 2014 at 8:27 am
David,
I can't express how much I miss you and regret we couldn't get together as we had planned. We shared so many stories and experiences with each other growing up. I am comforted knowing you will be with your brothers and joining them in the afterlife. Love you so much and thank you for what we had together. Xoxo
David, I just found out today about your passing! I was saddened but know the road you traveled. I'll remember the good times we shared like seeing Charo at the Casino and the first Christmas we met at Houston's when I quickly rushed home to get you the gothic black door knocker that reminded me of you. Keep knocking in doors and hearts you touched. Love, David
---